When winter weather hits, it can be so tempting to throw on warm and bulky clothes, like hoodies and Ugg boots, with a disregard to your appearance. But if you are a millennial trying to gain some respect in the work place, finding a balance between looking chic and staying warm is important. Here are just a few ways you can do double duty with your winter wardrobe.
Recreate This Look!
Plaid Skirt (Option 2)
Winter Jacket (Option 2, Option 3)
Winter Scarf
Over-the-knee boots
Try Thin Layers
Layering is the key to your wardrobe from fall through spring, and it is essential to layer in winter so you can go from freezing temperatures outside to the furnace regulated environment in your workplace. The trick to layering without building bulk is to opt for the thinnest layers possible, and this starts with undergarments and base layers that often go unnoticed. Silk is a great base layer – it's thin and unnoticeable, doesn't create unflattering lines, and holds body heat in to create more warmth. You can also layer tights under thicker, more winter-friendly dresses and skirts for winter days.
Choose a Figure-Flattering Coat
Wearing a warm and cozy puffer style coat may be okay for casual occasions, and though it's not the most figure flattering choice, it will certainly keep you warm. But in the workplace a chic, warm, and flattering coat is a necessity. Choosing something that is tailored to your body style, like a flared or A-line pea coat or something with a belt to accentuate your waistline, is best. Color is also an important consideration when looking for a coat. Neutrals are usually the best choice because they never go out of style. They look classic and can be worn for many years, plus they can be dressed up for work, or down for weekends depending on your accessories.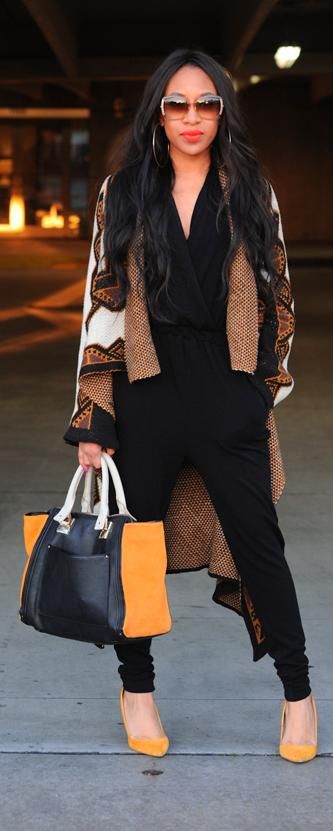 Recreate This Look!
Plaid Pattern Wrap Shawl Poncho Cape (Option 2)
Jumpsuit (Option 2, Option 3, Option 4)
Shoes
Accessorize, Accessorize, Accessorize!
Speaking of accessories, adding a hat or headband, gloves, and a scarf are great ways to add color, personality, and warmth to your outfit. I particularly love the knitted hats and headbands with extra touches, like some bling or a headband to dress up my outerwear. These accessories will hold in warmth and are a cheaper way to update your outerwear to keep up with current trends each winter season.
Boots are a Winter Staple
Fall and winter are the best seasons for boots, and luckily they can be used to create lots of different styles and looks. Ankle booties, calf-height "riding" boots, and over-the-knee boots can all be used in outfits for professional, dressed up, and casual looks alike. You can almost live in boots in the winter with all the different choices available. Keep in mind that heeled boots may be cute, but they are not always the best choice for potentially hazardous weather in the winter.
Recreate This Look!
Winter Hat (Option 2)
Long Sleeve Knit Sweater Loose (Option 2, Option 3)
Knee High Boots
At the end of the day though, warmth wins out. It's not worth looking chic if you aren't warm and comfortable. Plus, paying the doctor's bill for getting a cold to look fabulous is just silly.
What are you wearing to look chic and stay cozy this winter?