I never thought it was possible to make extra money tutoring.
When it comes to personal finance, I thought I knew everything there was to know. I had read all the blogs I could find, bought the books I was supposed to, and followed (most) of the rules about budgeting.
The Struggle: before I started making extra money tutoring)
However, I was still struggling.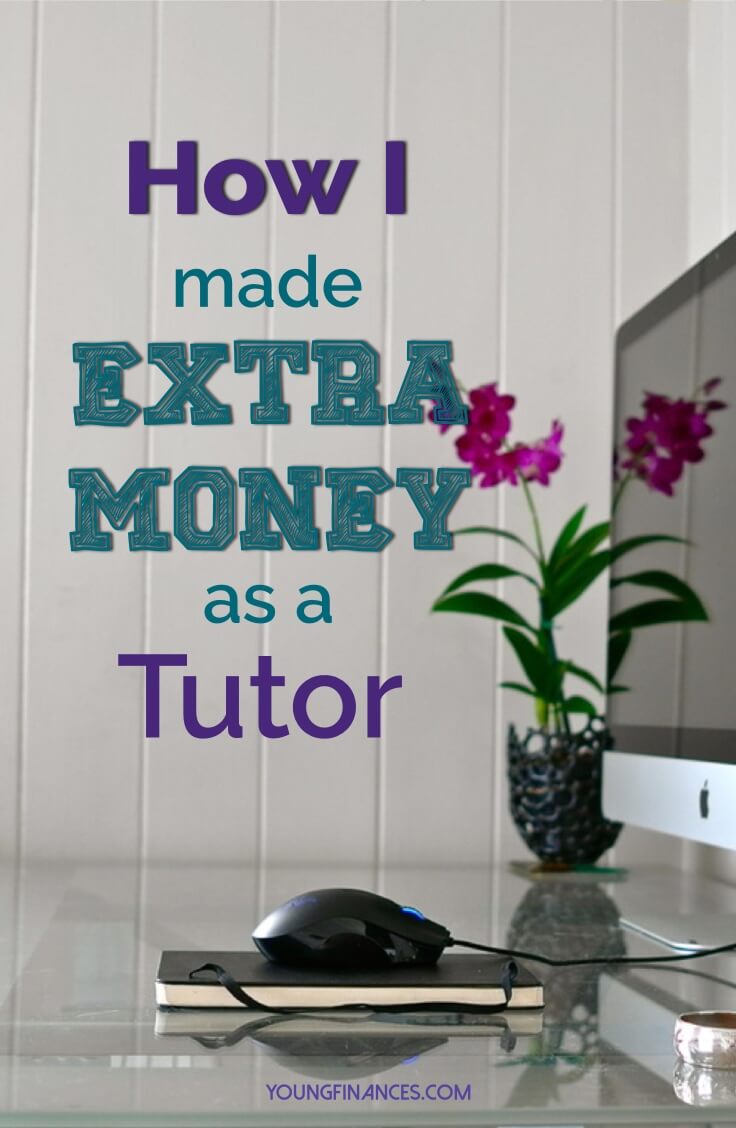 Every month, I would look at my Mint.com account and see that I even after cutting back and saving what I could, I was barely making a dent in my debt.
When I finished grad school in 2010, I had a degree and a mountain of debt to add to my already significant undergrad debt. With an engineering background, I had a pretty good shot at employment, but even after starting at a well-paying job, things were still pretty tight. Not to mention that even as I was paying off my debt on schedule, I was still facing 30 years of payments and tens of thousands of dollars in interest.
The turning point for me came when an older coworker of mine and I were talking. He half-jokingly suggested I just go and move down to Caribbean and hang out there as a bartender for a few years; the plan he had for himself before he met his wife.
My response: "Can't. I have to pay back my student loans."
The Lightbulb: The moment I decided to make extra money tutoring
This was when I knew I had to make some changes. It wasn't enough to just get by, and there wasn't much room to keep cutting back. I needed to make extra money, jump-start my debt repayment, and actually have a bit more freedom in my life.
But I was working at a small cash-strapped company, and there just weren't really any opportunities for promotions or raises. Sure I could find somewhere else to work, but I wasn't ready to move on yet, and a new job was not going to be something that could happen overnight.
Instead, I decided to take on a side hustle. I had a bit of free time I wasn't using particularly effectively (read: playing video games), and the thought that I could cut short the amount of time I was stuck paying loans was pretty enticing.
I started tutoring.
I had worked with a student here and there before, but this time I wanted to actually make a good chunk of money.
At first it was slow going. I had trouble finding students, and even when I did, I didn't really feel ready to start charging them what seemed like a lot of money to me. As a private tutor not working with an agency, a limited track record, and no teaching background, I felt like I was a little fish swimming in a very big pond.
However, once I did take on my first student and worked with him for a few lessons, I started to learn more about what worked, what didn't, and why my services were highly valued. I learned how to help them without doing the work for them, even if that's what they wanted. Then with the next student, I learned how to work with a schedule that was quickly filling up.
And on it went.
Debt Payoff: How I used the extra money I made from tutoring
At one point I was balancing 4 different students at the same time and my full-time job. And it was paying off. During my first full year of making extra money tutoring, I earned $4,400. Within a year I had paid off almost all of the credit card debt I had hanging around, putting me in a great position to start paying off my student loans faster.
Now, after logging over 400 hours with students, I work to help others start making extra money tutoring and increase their incomes. Through what I've learned over the years, I work to break through the anxiety about charging students and give people the tools they need to get started. I also want to help people excel as a tutor. Being an "ok" tutor is a good start, but being a "great" tutor is what gets people to recommend you to others and builds your reputation.
If you're thinking that you want to start looking for a side hustle to make extra money, tutoring has been a huge benefit for myself and countless others, and I encourage you to give it a try.
Want to make extra money? Grab this free video guide and find out how you can earn with a blog.