I was working on recording a retirement episode of the WealthFast Podcast and stumbled across a pretty neat fact.
The more you save, the earlier you can retire.
The concept is pretty simple; you need about 25-33 times your annual spending rate to retire and if you save 20% of your income, you can replace your income in 37 years; assuming that your savings grow at 5% per year.
That means, in 37 years, you can retire and live comfortably on what you have saved. That seems like a long time to me.
The calculation involves dividing your savings rate by your spending rate.
20% divided by 80% in this case. This calculation gives you an annuity; how much you can add to your retirement fund each year.
Let's assume that you decide to save half of your income, 50%. Your annual contribution would be 1.
Using a Present Value calculation we plug in the following variables; $0 current balance, 5% interest rate, 1 annual addition, -25 Future value. Solving for N, the number of years, gives us 16.6.
That's 16.6 years until retirement!
It sure beats working in a cubicle for 40 years before retiring.
Can I Save if I Have Student Loan Debt?
If you've seen my recent video on Youtube, then you know that I have a plan to pay off 65k in student loan debt in less than three years. Part of this plan involves saving more money by cutting expenses.
Little did I know that by cutting unnecessary expenses and making more money, I would be able to save much more.
In fact, I would be able to save 50% of my income!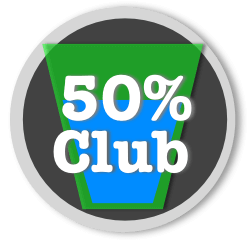 That means that each month I deposit an entire paycheck into what I affectionately call my Freedom Fund. Instead of a retirement goal, I have a debt pay down goal and a travel goal.
Is It Really Difficult to Save 50%?
I used to think that radical savers were crazy couponers that clipped and snipped for an extra 30 cents at the grocery store. Now I know that radical savers have made a lifestyle decision. A little over a year ago (84 weeks to be exact) I read this post over at Frugal Portland about how Kathleen planned to save half of her income.

At the time, I was saving 10% of my pre-tax salary in my company sponsored 401(k) plan. I even commented on that post that I wanted to do the same but only if I could travel as well.
84 weeks later my plan is in place.
How I Plan to Save Half My Income and Travel
I started the blog TravelTish.com to document my goal of travelling more. Because I am saving half of my income from my day job to fund my student loan debt payoff, I will fund my travels with half of my income from my side hustle.
Is it really so hard to believe that you can save 50% of your income and still do what you want to do, like travel the world, buy a house or pay for advanced education?
Apparently it is, because after Kathleen published this post on Yahoo about how she and her fiance planned to save half of their combined income, the trolls came out. Similarly an ugly comment was made on my 65k debt payoff video.
I guess it's radical to save money and pay off debt.
Who knew?
And now the fun stuff. Kathleen and I are starting the "Save 50% Movement" for everyone who is a radical saver. You could be saving to pay down debt, saving to travel, or saving for a house. We're here to encourage each other to save more. Even if you're not quite ready to save 50%, join us and as you see how easily others are doing it you will be ready. (Let's hope it doesn't take 84 weeks.)
Are you radical? Join us.
How to Join:
Commit to saving half of your after-tax income. (If you can save half of your gross income, that's awesome!)
Request to join our Facebook group to stay motivated and encourage others
Optional for bloggers:
Write a post declaring your goals and grab the button below to include in your post.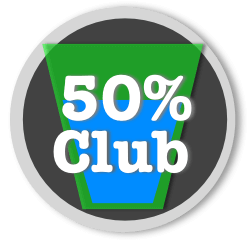 <div align="center"><a href="https://www.facebook.com/groups/256492897848742/" title="Save Half Club" target="_blank"><img src="https://youngfinances.com/wp-content/uploads/2014/01/50-percent-savings-club.png" alt="50 Percent Savings Club" style="border:none;" /></a></div>