It's January! And time for the final update on my Grow Your Dough Throwdown portfolio. You may remember that at the beginning of 2014 I entered a challenge to grow $1,000 in the markets. I decided to take a combined approach using passive and active methods.
For my active portfolio, I invested $400 with Loyal3. For my passive portfolio, I invested $600 with Betterment. Here is my post that details the stocks that I purchased.
Even though it is not an even split, I decided to call my portfolio the Gemini Portfolio. It's a little of this and a little of that. Sometimes balanced and sometimes not as we Gemini's can be.
The passive side lagged a bit during the year because I had some bond funds in the ETF portfolio. After I updated my allocation, the passive portfolio started keeping up with the markets nicely.
The active side performed poorly for the first few months of the year but then it started kicking butt and taking names! Choosing the right individual stocks helped boost my portfolio performance and I finished the year up 9.71%. If you are an email list subscriber then you know what my annual return goals are. And I'm happy to say that in 2014 I made it!
December & Year-End Portfolio Results
What's Next?
Up next is the 2015 Grow Your Dough Throwdown! This year I'm adding a $500 dollar portfolio with Motif Investing. I also moved all of the cash from last year into my Loyal3 account and I purchased a few more stocks.
What is Motif?
Motif Investing is an online brokerage firm offering an intuitive platform that empowers individuals to invest in real-world ideas through motifs. A motif is a carefully researched and balanced portfolio of up to 30 stocks reflecting a specific idea or trend. Examples include Renter Nation, Caffeine Fix and Seven Deadly Sins. Motifs are fully customizable—you can add and delete stocks, and change their weightings. You'll pay just one low commission – and no management fees. And, you'll get important diversification both within a motif and across motifs.
Motif Investing offers brokerage accounts as well as no-fee retirement accounts, including Roth IRAs, Traditional IRAs, and Rollover IRAs.
Motif Investing also provides a social network where its members share and discuss investing ideas. Ask for feedback. Find out what other investors have to say about the motifs that may interest you. You can invite people you trust most to join your own investing circle. Share only what you want, with the people you've chosen, or share nothing at all. It's all up to you. And you're always in control.
Investing Challenge Tracker
To make it easier to keep up with all of the challengers and our portfolio performance, the guys at Motif created a handy widget that will display the leaders. A quick but VERY IMPORTANT note. All investing involves risk and past performance is no indicator of future results. As I always say DO YOUR RESEARCH before investing.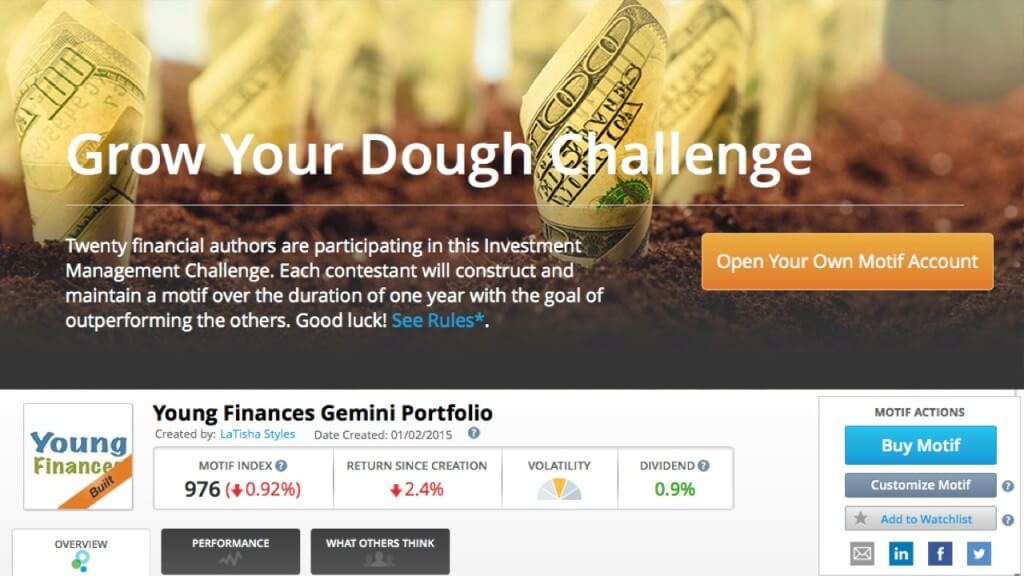 Use this link to open a Betterment account and start investing today.
Disclaimer
All investing involves risk, past performance is not indicative of future results. There is no guarantee that I will make money. I could lose everything. When mentioning how I plan to invest, it should not be taken as a recommendation or investing advice. You should consult your personal financial advisor to determine what type of investing suits your personal situation and risk tolerance level. There can be substantial risk of loss in trading stocks. You should, therefore, carefully consider whether such trading is suitable for you in light of your financial condition. All transactions in the financial markets are risky. No information I present is intended to be used as the sole basis of any investment decisions, nor should it be construed as advice designed to meet the investment needs of any particular investor.
S&P and S&P 500 are registered trademarks of Standard & Poor's Financial Services LLC ("S&P"), a part of McGraw Hill Financial. Dow Jones is a registered trademark of Dow Jones Trademark Holdings LLC ("Dow Jones"). Past performance of an index is not a guarantee of future results.
It is not possible to invest directly in an index. Exposure to an asset class represented by an index is available through investable instruments based on that index.
Per FTC guidelines, this website may be compensated by companies mentioned through advertising, affiliate programs or otherwise.