It's time to get invested!
Read this post for details on the Grow Your Dough Throwdown. In short summary, I am competing with several other bloggers in a challenge to invest and grow one thousand dollars in an investing portfolio.
In this post I will explain my specific investing decisions.
The 60/40 Investing Plan
I plan to invest 60% passively and 40% actively. Passive investing simply uses index funds to mimic the return of an index. Active investing is the process of choosing individual investments, stocks in this case, in order to beat the return of an index.
I plan to invest $600 dollars with Betterment. I've mentioned before that Betterment is my preferred ETF broker. With one easy step, I deposit funds with them and they invest in a diversified index portfolio on my behalf.
I think it is the easiest way for young adults to start investing.
How to Add a New Goal in Betterment
I already have an account with Betterment and I detailed the account opening process here. For this challenge, I will be adding a new goal in my current account.
In a few short steps, I added the Investing Portfolio Throwdown goal.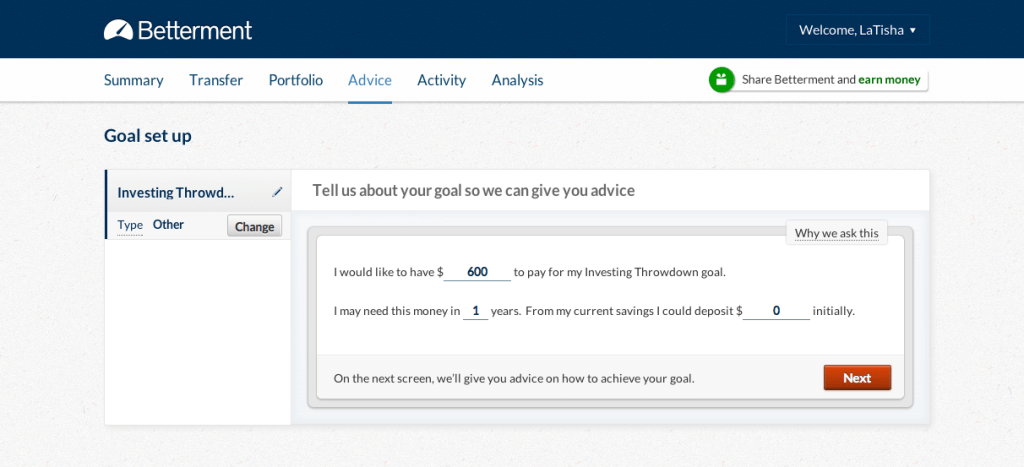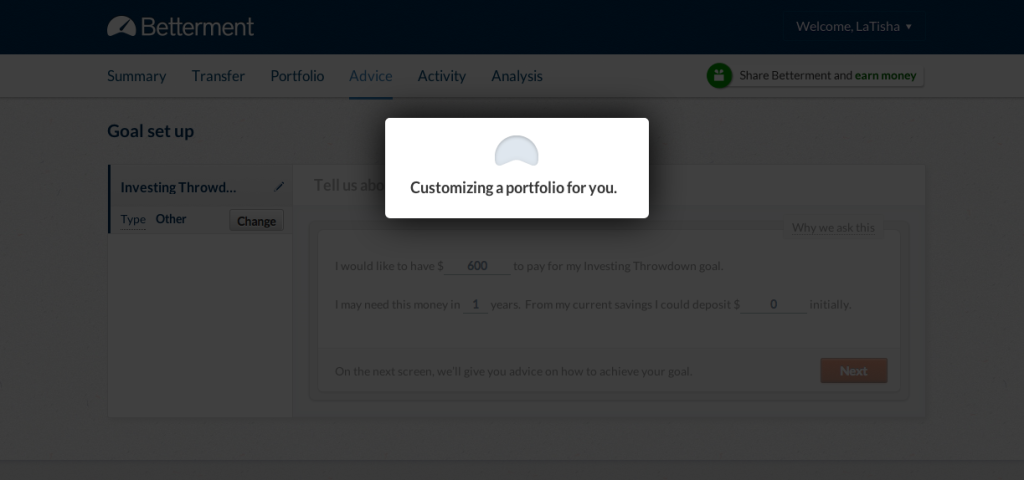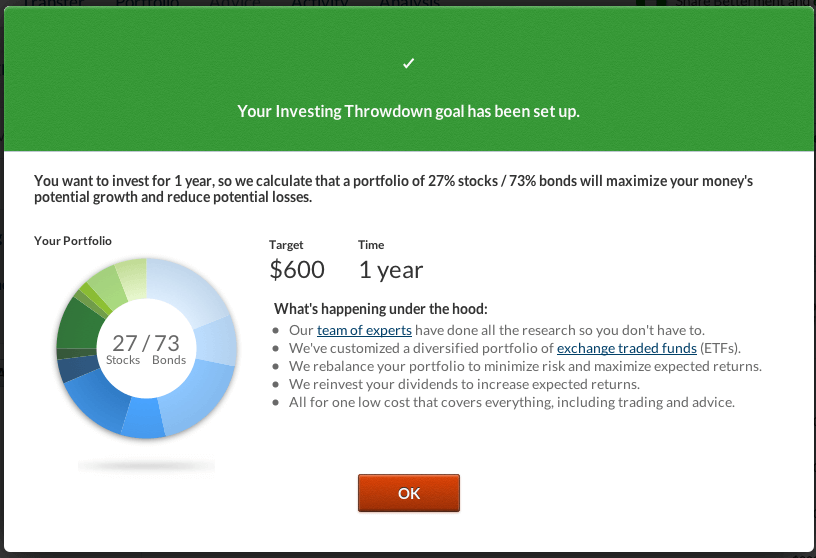 You'll notice that they recommended a pretty conservative portfolio allocation for me. Because I mentioned that I would need the funds in 1 year, the allocation is skewed more towards bonds; which are typically used to minimize volatility and therefore risk of lost funds. (Although bonds are thought to be less risky, there is still a chance of losing funds.)
However, I would personally prefer to experience the returns, highs and lows of a more stock based portfolio, so I changed the allocation manually.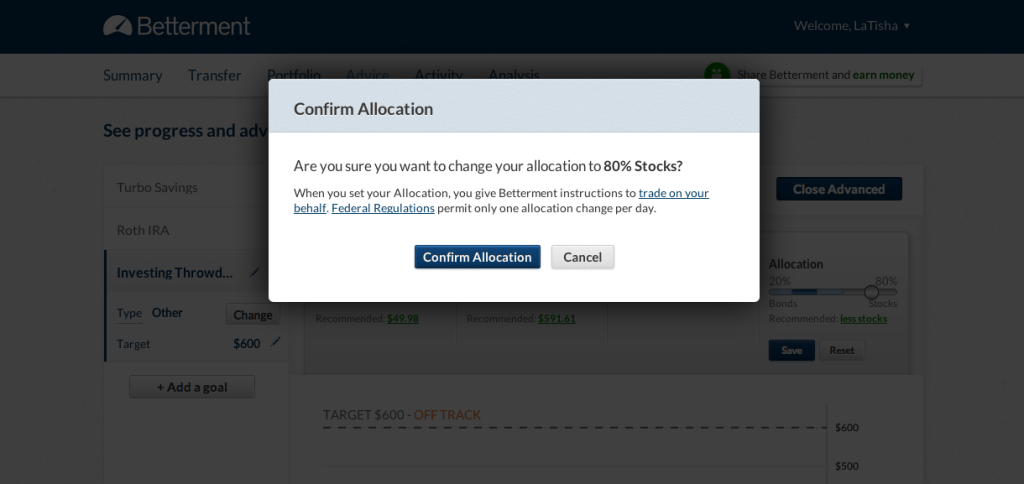 On Tuesday, December 31st, I deposited $600 dollars into this account. The deposit process takes 1-2 business days so the funds were in my account and invested by January 2nd on the first trading day of the year.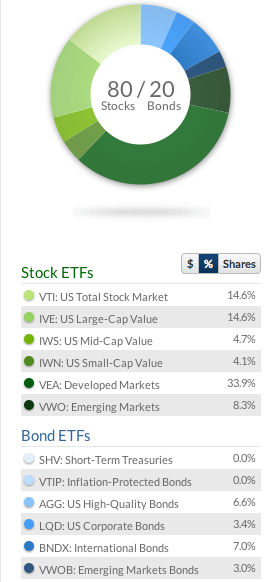 For this challenge, I chose a 80/20 split of stocks and bonds. I will have the following Exchange Traded Funds in my account.
Stock ETFs
VTI: US Total Stock Market 14.6%
IVE: US Large-Cap Value 14.6%
IWS: US Mid-Cap Value 4.7%
IWN: US Small-Cap Value 4.1%
VEA: Developed Markets 33.9%
VWO: Emerging Markets 8.3%
Bond ETFs
SHV: Short-Term Treasuries 0%
VTIP: Inflation-Protected Bonds 0%
AGG: US High Quality Bonds 6.6%
LQD: US Corporate Bonds 3.4%
BNDX: International Bonds 7%
VWOB: Emerging Markets Bonds 3%
These percentages should stay relatively constant. Betterment handles the rebalancing to maintain your allocation decision. This means that they will sell and buy so that the account continues to be 80% stocks and 20% bonds.
They also reinvest dividends as they come into the account. This account should do as well as the broad market. No one really knows what the markets will do and a passive investing strategy, like this one, is expected to perform in line with the market.
Investing in Stocks with Loyal3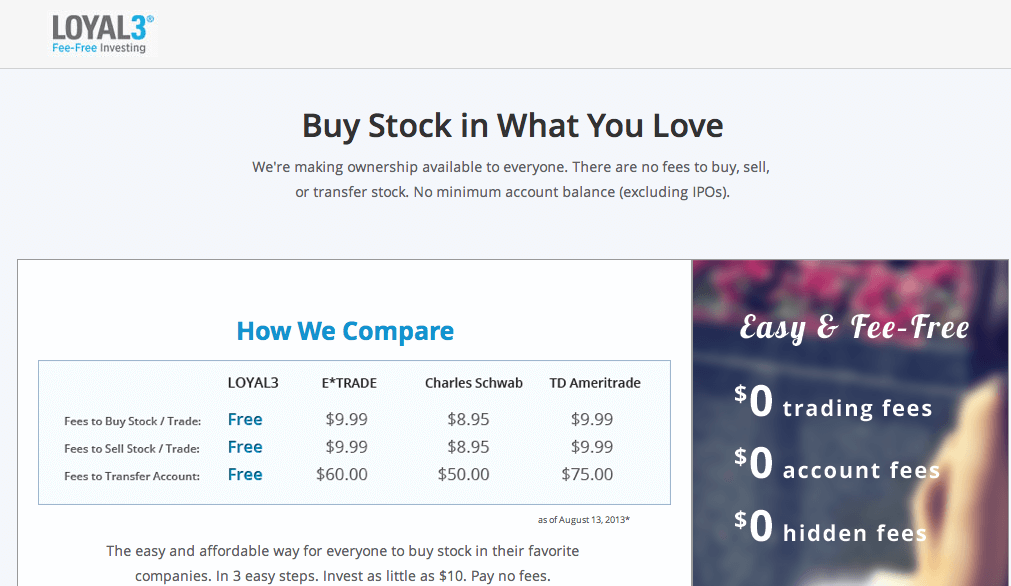 I plan to invest $400 dollars with Loyal3. Investing with Loyal3 is a new experience for me. This broker allows you to invest as little as ten dollars in companies that you know and love. There are a limited selection of companies so I plan to choose from the options available to me.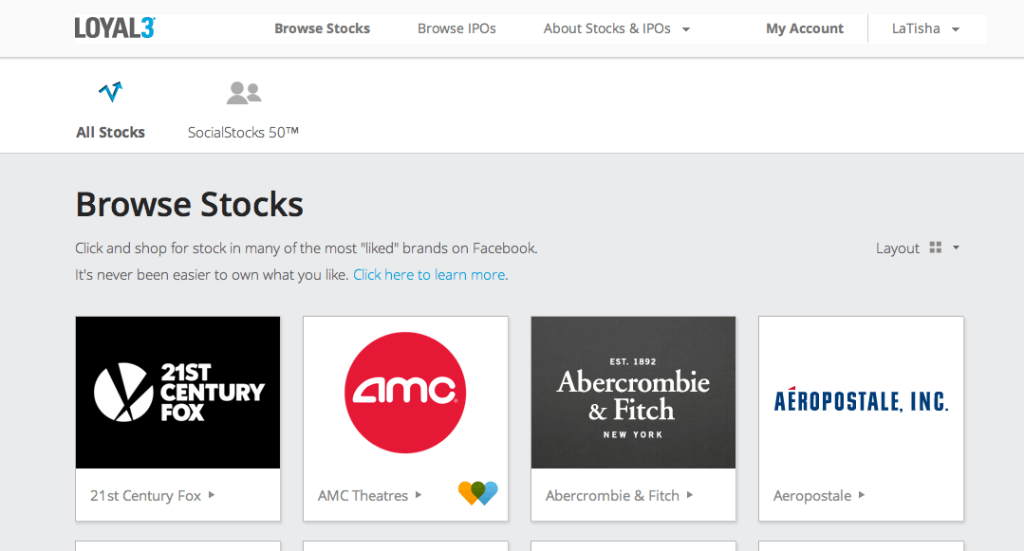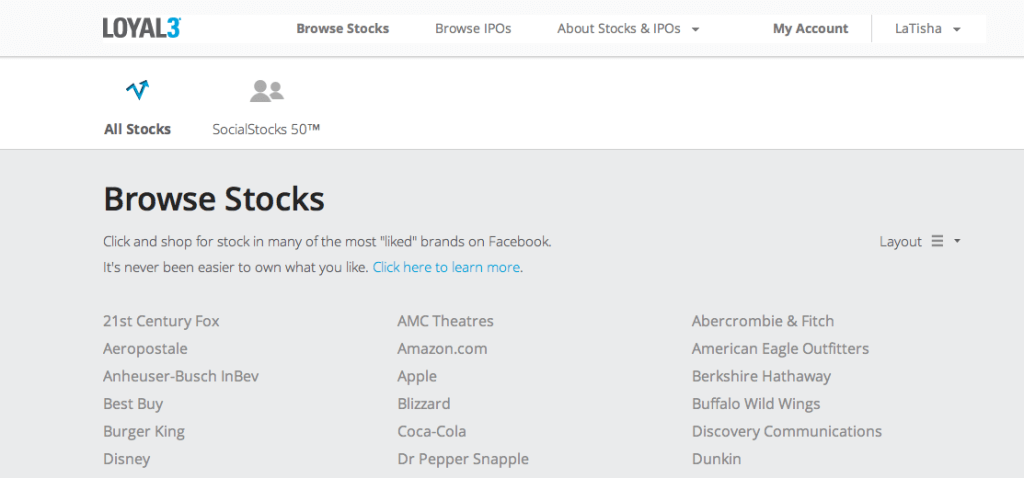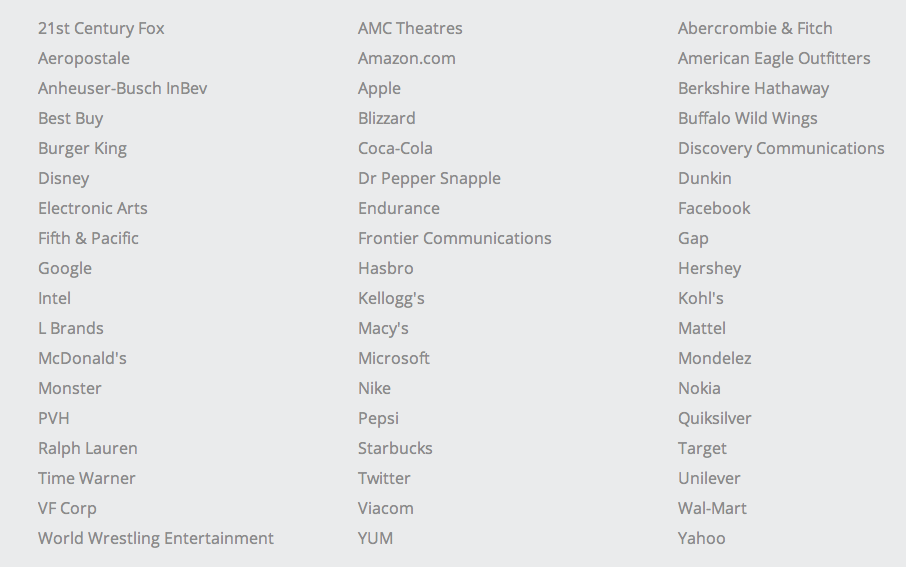 Creating a Portfolio With Morningstar.com
To narrow down this list, I went to Morningstar.com and created a portfolio with the full list of options. I have to be honest, it took me a few hours to decide how I wanted to invest.
Was I looking for good long term names or did I want names that would allow me to win the challenge over the next year?
In the end, I decided to create a dividend portfolio that pays monthly, with names in 4 of the biggest sectors in the S&P 500; Consumer Discretionary, Consumer Staples, Information Technology and Financials. I used this site to find constituents, or members, of the S&P 500.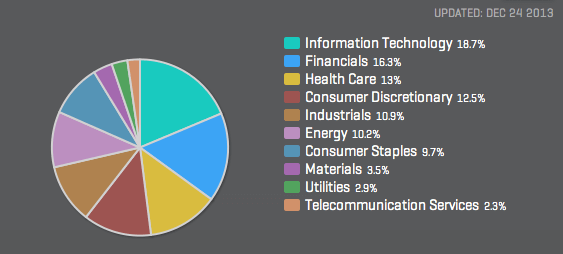 It would be nice if these names helped me win the challenge over the next year, but if not, they are still names that I would be willing to own long term.
Here are the companies I chose.
Consumer Discretionary
LB: Limited Brands, pays dividends in Feb, June, Aug, Nov
YUM: YUM Brands, pays dividends in  Jan, Apr, Jul, Oct
AMZN: Amazon.com
BUD: Anheuser Busch
Consumer Staples
MDLZ: Mondelez International Inc., pays dividends in Mar, June, Sep, Dec
Information Technology
AAPL: Apple Inc., pays dividends in  Feb, May, Aug, Nov
FB: Facebook, Inc.
Financials
BRK.B: Berkshire Hathaway
I'm going to split the $400 dollars evenly across the 8 names. On December 24th and 31st, I deposited $200 in the account. The funds typically take 1-3 business days to show up in your account. On Thursday January 2nd, I placed my purchase orders for all 8 stocks but at $25 dollars each. The $200 that I deposited on the 31st was available for use on January 3rd but I didn't invest the remainder until the 9th.
Loyal3 places orders in batches once per day. My purchases were executed on January 3rd and January 10th.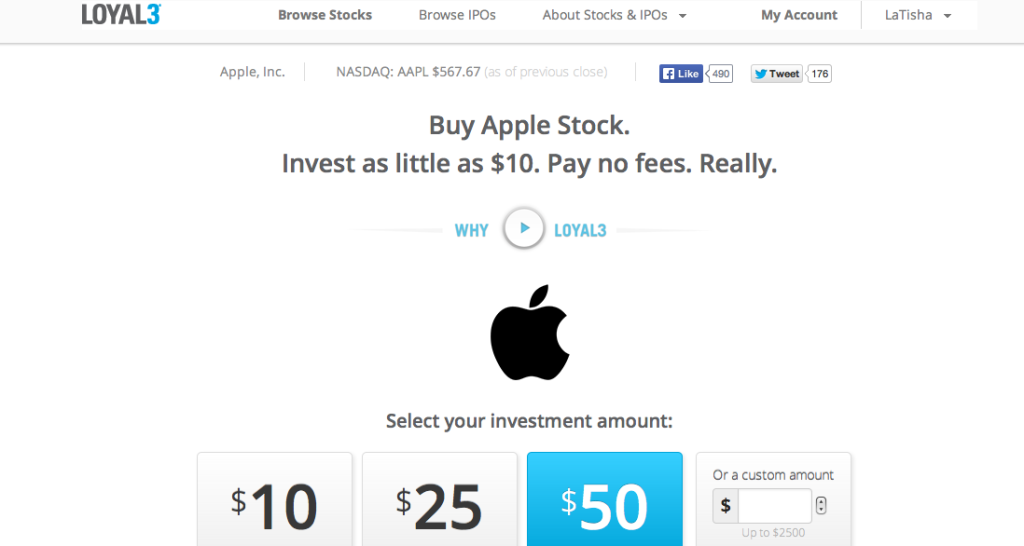 This is the process to buy stock with Loyal3.
How to Invest in Facebook Stock
Step 1: Select an investment amount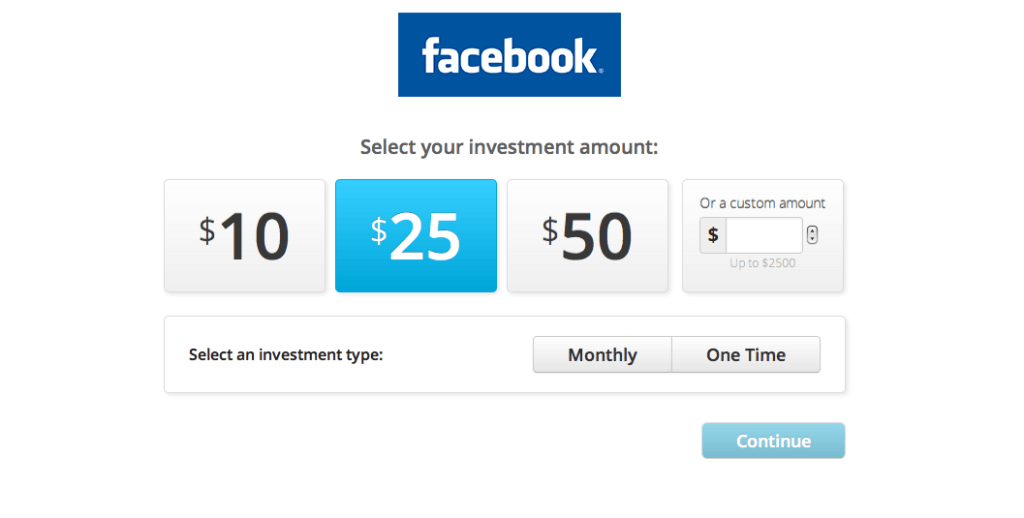 Step 2: Click to confirm
Step 3: That's it!
Using the free Instant X-Ray tool available via Morningstar, this is how my individual stock portfolio looks.
Instant X-Ray Morningstar Portfolio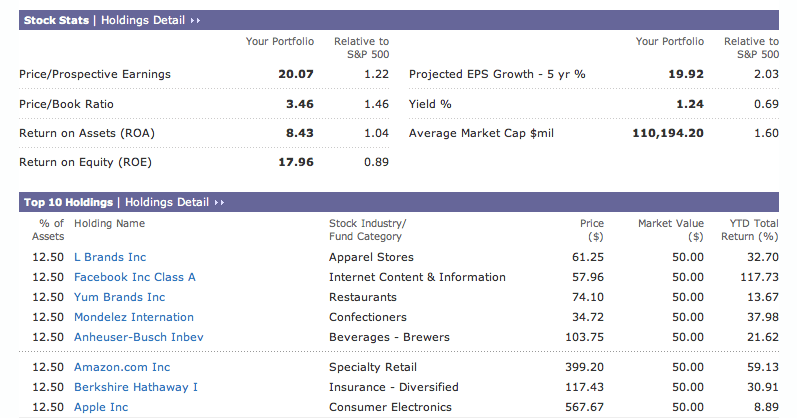 Based on the stocks that I chose, my portfolio is weighted towards domestic stocks and the style skews towards growth.

On a final note, my portfolio is positioned to be more sensitive to the economy's changes. A portfolio with cyclical names, tend to be more volatile. This is because when the economy is not doing so well, in general, people tend to cut back on unnecessary or discretionary spending. Then when things are good again, people tend to spend more.
This affects sectors like Consumer Discretionary and Information Technology especially. You may be less likely to buy expensive beers or go out to eat as much when you have less certainty over whether or not you will be paid.
Sectors such as Consumer Staples are less sensitive to economic changes.

You will always need toilet paper, right?
Right??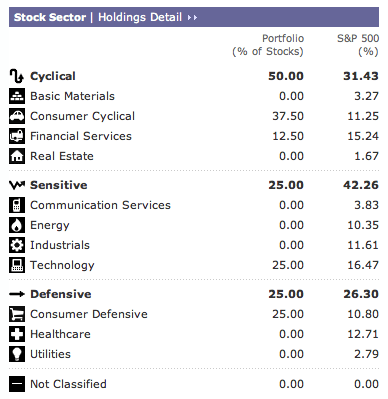 Now that I have my investing portfolio, I don't plan on making many changes. In the challenge we are allowed to buy and sell as much as we like. I prefer to see investing as a long term strategy where you buy stock in companies that you like and that are expected to grow over the long term.
What do you think of my portfolio? Are you interested in joining the challenge? Do you have questions about investing? I'm all ears!
See the investing portfolio challenge results here.
Use this link to open a Betterment account and get $25 dollars added to your account.
Disclaimer
Just because I chose these stocks, doesn't mean that I am recommending them for purchase.
All investing involves risk, past performance is not indicative of future results. There is no guarantee that I will make money. I could lose everything. When mentioning how I plan to invest, it should not be taken as a recommendation or investing advice. You should consult your personal financial advisor to determine what type of investing suits your personal situation and risk tolerance level. There can be substantial risk of loss in trading stocks. You should, therefore, carefully consider whether such trading is suitable for you in light of your financial condition. All transactions in the financial markets are risky. No information I present is intended to be used as the sole basis of any investment decisions, nor should it be construed as advice designed to meet the investment needs of any particular investor.
S&P and S&P 500 are registered trademarks of Standard & Poor's Financial Services LLC ("S&P"), a part of McGraw Hill Financial. Dow Jones is a registered trademark of Dow Jones Trademark Holdings LLC ("Dow Jones"). Past performance of an index is not a guarantee of future results.
It is not possible to invest directly in an index. Exposure to an asset class represented by an index is available through investable instruments based on that index.
Per FTC guidelines, this website may be compensated by companies mentioned through advertising, affiliate programs or otherwise.